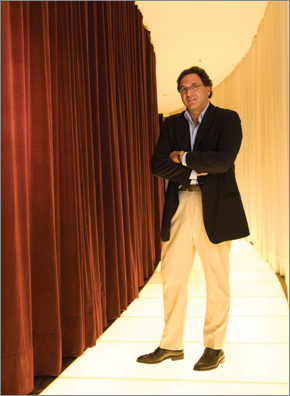 Elegantly dressed in a navy blue suit, Rogerio Fasano is seated in one of the leather armchairs of his hotel in the Jardins neighbourhood of São Paulo. Calmly, he points to a slightly crooked golden lamp illuminating an old map in the lobby. 'For one hour I have been looking at that lamp and wondering how people let that happen,' he says. At 47-years-old Fasano has already had two strokes: one at 37 and the other at 42.
Yet still he goes on smoking and worrying about each lamp, just as he cares about every dish that comes out of each kitchen in the eleven restaurants, bars and hotels the Fasano Group owns in Rio de Janeiro and São Paulo. Fasano says he is 'the first victim of his own perfectionism,' and this intense, Brazilianborn Italian may not be exaggerating.
As one of the most important businessmen in Brazil, Fasano has renewed the tradition of his Italian family and set the standards for a contemporary image of the country, and he has no intention of stopping. The Fasano Group is expanding, with three new hotel enterprises on the way. Next year a Fasano hotel will open at Fazenda Boa Vista, located in a luxury country complex created by partner JHSF Group. Properties in Punta del Este on the Uruguayan coast and Trancoso in north-east Brazil are next on Fasano's agenda.
Gastronomy and hospitality are the channels through which Fasano, an ex-cinema student, chooses to express his views, and he does it with rigour.
His productions are classical with a twist. In most of Fasano's creations there are no big extravagances in food or style. Think of the sober colours and noble ingredients in a traditional linguine alle vongoli fresche.
Spaces have a masculine sophistication with smells of leather and expensive cigars backed by a soundtrack of bossa nova. Even the most recent project, the Fasano hotel in Rio de Janeiro, which was decorated by celebrated French designer Philippe Starck, follows the aesthetic.

Fasano appreciates the creative atmosphere that flourished in Brazil in the 1950s and 60s, epitomised by architects such as Sergio Bernardes and Oscar Niemeyer, and musicians such as Tom Jobin and Nara Leão. The hotel in Rio followed this inspiration.
In Brazil the Fasano family name is a well-known synonym for gastronomy. Most people tend to assume that Rogerio smoothly followed the family footsteps in the manner of a Godfather plot. The truth was not this straightforward, however.
Until 1982 all Fasano knew about restaurants came from memories of his childhood spent among the tables of the restaurants his grandfather Ruggero owned in the 40s to the 60s, and also mythical tales of his grand-grandfather Vittorio's restaurant. Vittorio was a Milanese who went to Brazil in 1902 and opened Brasserie Paulista in the centre of São Paulo.
The name later changed to Fasano and the restaurant lasted into the 30s. Both businessmen became important figures in São Paulo and their restaurants represented the urban Brazil that was emerging at the time.
But when Grandpa Ruggero died in 1968, Fabrizio, Rogerio's father, decided to discontinue the family business. A talented, charismatic and self-made man, Fabrizio, who is now 73, created the first locally produced whisky, made with eight-year-old aged malts, Old Eight.
Traumatised by living and sleeping at the family restaurants because of his father and grandfather's workaholism, Fabrizio discouraged his own children from entering the same trade.
Starter for one
In 1982, Rogerio Fasano was living in London, studying cinema and looking for a job, when the phone rang. 'We just received an offer to open the Fasano restaurant,' his father said.
'Congratulations,' Fasano answered, not understanding that it was a proposal for him to get into action. At first Fasano did not accept, but a month later he was back in São Paulo to inaugurate the restaurant, which remained open for only six months.
At this point the family was experiencing tough times. A whisky blend recently launched by Fabrizio's company had not sold well. Following the six-month lifetime of the first restaurant, another one at a different address was also less successful than expected.
Fortunes changed in the 90s, however, when the Fasano family launched another project in a big neoclassical house in the heart of one of the most celebrated areas of São Paulo: the Jardins.
Fasano established a partnership with one of the most important architects in Brazil, his friend Isay Weinfeld, and together they travelled the world searching for old furniture pieces, design inspiration and food.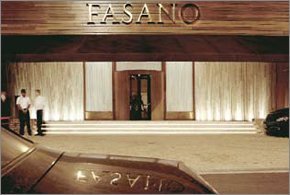 'We don't travel to Milan to look for trends; we travel to Italy to eat,' Weinfeld once said.
Fasano runs the business, his father does the administrative work, and his sister Andrea is in charge of the catering unit. Fasano controls every move of his waiters, most of who have worked for the family's restaurants for a long time, some for 15 or even 20 years. Fasano monitors the growing abilities and limitations of all his staff.
Sometimes he seems not to be paying attention to something or someone, then he describes it in detail', says Manoel Beato, Fasano's sommelier, who has worked with the family for 18 years. Beato has learned to interpret his visions. Fasano does not like to hire models as hostesses or actors as waiters. 'I like waiters who love the business,' he says: 'Waiters who dream of being maître d' and a maître d' who dreams of being a restaurant owner.'
He is also conservative in his gastronomic choices. If you want to have fun, ask Fasano to tell you his thoughts on foams, mustard ice cream or dishes that come to the table with an iPod in order for the customer to 'fully experience' the dish.
'I believe in ten years we won't be able to stand tasting most of today's gastronomic trends,' Fasano says. 'I enjoy things – food and environments – that I will still find beautiful in thirty years' time.'
If you ask what category Fasano hotels fall under, Rogerio will tell you that they are not designer or boutique hotels. He dislikes the terminology and what it represents. 'This is an owner's hotel; a hotel in which the owner is ever present.' In his view the reason all his business enterprises are so successful is the mix they create.
You can spot top executives meeting, playboys with their cigars and designers sitting next to a stylish older couple – people from their twenties to their sixties. Although the atmosphere at the hotel is very sophisticated, Fasano's luxury is far from oppressive or heavy, unlike some luxury enterprises in emerging countries. People in Fasano restaurants are not frozen.
They flirt and they may assume airs, but they talk loudly and they are very alive. It is a reflection of the hotel's owner, who carries the natural elegance of an intense man who talks energetically, smokes, and may get a little nervous about those things that escape from his control, such as lamps.