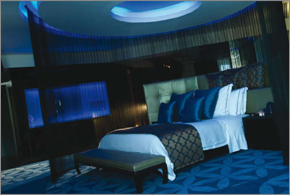 W Doha
Starwood's 'whatever, whenever' Gotham lifestyle brand marches on, mixing Man Who Fell to Earth sci-fi chic with retro hipster touches.
As you'd expect from any five-star hotel in the Qatari capital, the service here is flawless and the scale and gloss live up to the 'wow' factor that the W promotes. Gushing water features in the lobby (sorry, 'Living Room') are teamed with ceilingsuspended seating and 179 hand-blown hanging lanterns. Some of the most beautiful elements are the Middle Eastern flourishes in the graphics, from the carpets to the in-room minibar handles.
For downtime, head to WET, the hotel's black-mosaic pool with underwater music and multi-coloured fibreoptic lighting, and then the in-house branch of Jean-Georges Vongerichten's Spice Market.
With Qatar fast becoming the de facto business airline of choice, and with all of its routes going via its Doha hub, this might just be the best layover hotel in the world r ight now.
W Doha,
www.starwoodhotels.com
West Bay, Doha, Qatar
Tel: +974 453 5353
From £175 a night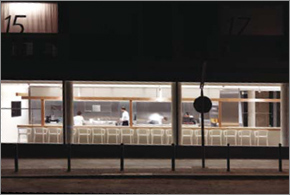 Casa Camper Berlin
As you'd expect from the iconoclastic Spanish shoe company this, their second hotel venture, is big on contemporary design mores and refreshingly the bedroom interiors veer towards tasteful modernism rather than the bells and whistles of pointless flourish. Not that it's wit-free: room numbers wr it large on the street side of the floor-to-ceiling windows and signage (including hot/cold details in the showers) are in Camper's stylish free-hand typography.
The common areas are vibrant and sporadically patterned but still relaxed. In terms of holing up for business, forward thinking reigns: free WiFi is offered and trumped by a democratic club floor, Tentempié, a penthouse level all-day café with gratis drinks and snacks for all residents.
Service is flawless, staff are multilingual and, when work's over, head to Dos Palillos, Albert Raur ich of elBulli's largely organic Asian tapas-style lobby restaurant where 12 and 16 course chef 's menus are served at a bustling kitchen counter. It's the talk of the town.
Casa Camper Berlin
www.casacamper.com
Weinmeisterstraße 1, 10178 Berlin Germany
Tel: +49 302 000 3410
From £125 a night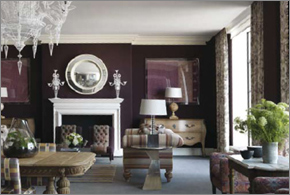 The Crosby Street Hotel
Tim and Kit Kemp's first transatlantic Firmdale venture has been an immediate success. In a city where anything better than mediocre service and a pokey room with a view of a br ick wall are a pleasant surprise, Crosby Street is a joy. Rooms are, relatively speaking, huge for Manhattan and have floor-to-ceiling windows overlooking downtown SoHo with cushioned areas to sit and lounge on the sills. Spending all day in residence working on a laptop is no hardship. Kemp's fondness for acid green and fuchsia sits well with the scale, alongside arresting and upbeat sculpture and other maximalist furniture and a fair amount of 'dogs of downtown' canine theming. As with the London Firmdale hotels, there's a state-of-theart screening room, perfect for film industry presentations and happenings. The drawing room is a very pleasant, and indeed ver y plush, meeting spot if the Crosby Bar and adjoining restaurant are busy and of course the location – right across the street from Balthazar, the Dean & Deluca flagship and Bloomingdales' downtown branch – make for some ver y pleasurable downtime. The Crosby Street Hotel is a little piece of English eccentricity executed very well in downtown Manhattan.
The Crosby Street Hotel
www.firmdale.com
79 Crosby Street, New York, NY, 10012 US
Tel: +1 212 226 6400
From £305 a night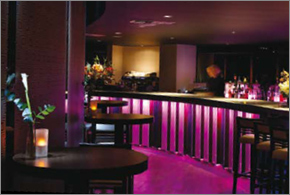 Rafayel on the Left Bank
While the attempt to refashion London's Battersea as any kind of Left Bank is risible, there's no doubt that this riverside hotel is an exercise in smart geography – right next to the Heliport and just down the road from the site of what will be the new American Embassy. It's also to be applauded for offering Asian-accented and efficient glossy five-star modernity rather than ye olde nostalgia, her itage and afternoon tea for tourists. The 65 guest rooms, furnished with veneered mahogany and floor-to-ceiling windows, are within a 17-storey curved glass building based around four towers. This is architecture with heavyweight ecological cred. There is an ambitious no plastics rule on-site, rain water is captured for irrigation and carbon emissions are 75% less than the London average. The cupcake shop in the lobby hints at a certain kind of frivolity, but there's no mistaking that this hotel means business, from the gym to the impressive F&B to the intention to offer only electronic newspapers and keep the property 'nearly paperless'.
Rafayel on the Left Bank
www.hotelrafayel.com
34 Lombard Road, London SW11 3RF, UK
+44 207 801 360;
From £139 a night
The Quincy Hotel
The Quincy is doing something very interesting and potentially radical with the business hotel model. Essentially it's a low budget all-inclusive property.
Residents can, in theory, stay here and there'll be no extras – very appealing for both an accounts department and a sole trader cutting cor ners. The room rate includes three meals a day as well cocktail hour, free wifi throughout, and an airport pick-up (one way only).
A soft minibar is replenished daily and they'll take care of two pieces of laundry per room per night.
The Quincy is also fairly flash – colours are bold, the fur nishings are modern, the work stations in the lobby are iMacs and there's a very photogenic glass-enclosed cantilevered pool jutting out of the 12th floor next to a very well-appointed gym.
It's certainly funky enough for the leisure traveller and perfectly situated – a five-minute walk from the heart of Orchard Road – for whatever you're in town for.
The reception staff can be amiable to the point of sit-com – jarring for the jetlagged, but charming otherwise.
The Quincy Hotel
www.quincy.com.sg
22 Mount Elizabeth, Singapore 228517
+65 649 676 99
From £140 p/night