Designers of incredible pieces of furniture, Ronan (far left) and Erwan Bouroullec (left) are busy building a reputation founded on astonishing originality. Christopher Kanal speaks to the brothers who reveal that, while they share the same background, their success is largely due to their individuality and opposing philosophical approaches.
French brothers Ronan and Erwan Bouroullec have been working together for more than ten years and in that time have produced extraordinary pieces of furniture, earning them a remarkable reputation as Europe's most original design team. It is a collaboration based not only on their special relationship as brothers, but also on their distinct personalities. In Gary Hustwit's acclaimed 2009 documentary on design, Objectified, the duo described themselves as a fox (Ronan) and a hedgehog (Erwan), employing philosopher Isaiah Berlin's categorisation of intellectuals, which divided them into foxes, who know 'many things' and hedgehogs, who know 'one big thing'. It is an intriguing description of both the way they work and their complexity.
Originally from Brittany, Ronan, born in 1971 and the older of the two, was the first to become a designer. Erwan, who is five years younger, studied art before working with his sibling. In 1997, the brothers presented their Disintegrated Kitchen at the Salon du Meuble in Paris. It was here that they were spotted by Giulio Cappellini, which led to their first major industrial design projects, including the Closed Bed and the Spring Chair. This was followed by a commission from the designer Issey Miyake, who asked them to create an interior for his new APC shop in Paris.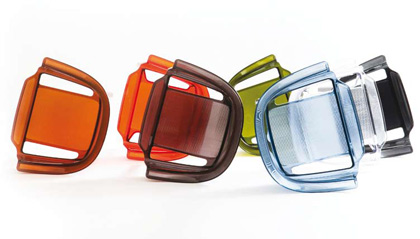 Their biggest breakthrough, however, was a decisive meeting with the chairman of Vitra, Rolf Fehlbaum, which resulted in their development of a new kind of office system, Joyn, manufactured in 2002. This was the beginning of a special partnership that has borne fruit in the form of numerous projects, including Algues, the Alcove Sofa, the Worknest, the Slow Chair and the Vegetal.
Since 2004 the Bouroullecs have also been working with Magis, designing two complete furniture collections, Striped and Steelwood. Today, Ronan and Erwan design for numerous manufacturers as well as Vitra and Magis, including Kvadrat, Kartell, Established and Sons, Ligne Roset and Cappellini.
Since 2001 they have worked in an experimental capacity at Galerie Kreo in Paris, where they have maintained the activity that has been essential to the development of their work. They have held five exhibitions, with the last one this spring, where they experimented with lighting. The exhibition had a certain delicacy in terms of the materials used: leather covered the Lianes lamps' electrical wires, their Roches shelving units were painted with a finish of matte mineral-looking paint and the Conque lamps were mirrored to give a sense of mystery when lit up. The brothers have compared their work for the gallery to the use of a sketch pad where they can explore different media and extraordinary techniques that are rejected by industry.
The Bouroullecs were voted Designers of the Year at the Salon du Meuble in 2002. In 2009, the Vegetal chair won the ICFF award for outdoor furniture.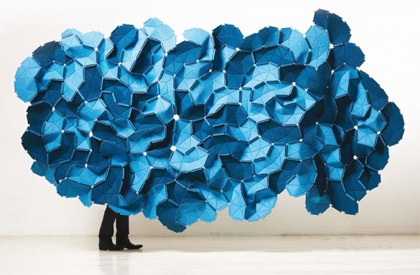 Their work is part of numerous international collections including the Musée National d'Art Moderne, the Centre Pompidou and the Musée des Arts Décoratifs in Paris, the Museum of Modern Art in New York, the Art Institute of Chicago, the Design Museum in London, and the Museum Boijmans van Beuningen in Rotterdam. They have also expanded into several architectural projects including La Maison Flottante ('The Floating House') in 2006, Camper stores in Paris and Copenhagen (2009), and the Casa Camper Hotel's restaurant, Dos Palillos, in Berlin (2010).
The Bouroullecs are currently working on the launch of a new collection of elements for the bathroom for Hansgrohe/Axor, which took several years to be developed. Axor Bouroullec will debut in Paris in June.
Christopher Kanal: What is your working relationship as brothers? Ronan and Erwan Bouroullec: We grew up with the same background and same deep relationship with shape and colour. However, we didn't go to the same school or have the same friends, so we can have quite different points of view. We have a very high level of understanding of each other but still disagree occasionally. On our projects, we always reach the same opinion, but it is not always evident from the beginning. It requires a long process of discussion and agreement.
We comment and criticise if necessary, and often have very frank and animated discussions. Every project is discussed at length at each step of the project, and in the end what is important is that we find a common view, a solution that satisfies both of us. When we disagree, we try everything possible to find an agreement.
CK: How would you characterise your work?
RB: Well, this is a difficult question for us. We are happy to read about our projects, to see what people suggest and to review comments from journalists that describe them, but as for 'characterising' our work and our projects ourselves, we do not feel comfortable doing this.
CK: Can you describe your design process?
EB: What we feel makes a successful designer is his or her ability to keep the line with the projects from A to Z, knowing that the process is highly complex and full of obstacles. To be capable of integrating this complexity while keeping the essence of the initial project, is the number one difficulty for us. It is easy to have an idea yet it is challenging to make it real. This is, in a few words, all the complexity of leading a design project successfully. We tend to do this every day.
CK: What is your relationship like with manufacturers?
RB: We work with a distinct group of manufacturers, like Vitra, for example.
Working in collective intelligence is very important to us. We do not work with compromises. Erwan and I question the project over and over again to be certain that we are following a 'good path', which will lead to the closest 'good design'.
We follow this philosophy with the manufacturers we are working with.
EB: I would add that as designers, our everyday concern is to find the right balance between a variety of parameters that each object is made of. Design is a multifaceted discipline. What drives us is the quest for the good harmony between all these parameters, which can be tangible (i.e. shape, colour, size, weight, etc.) or intangible (i.e. sensuality, comfort, etc.) It is not exclusively the search for the right balance between form and function. We share this with the manufacturers we are working with.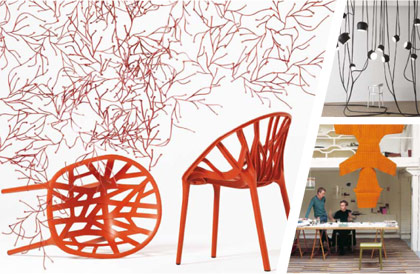 CK: Can craft ever be reconciled with mass-production?
EB: Furniture and product design sit exactly between craftsmanship and industry. It is, or should be, the perfect conciliation between both disciplines.
CK: How did the collaboration for Clouds for Kvadrat come about?
RB: We actually started working with Kvadrat after initially turning them down when they invited us to design their showroom in Stockholm because we are not architects. After several months, we agreed that it would be a great opportunity to try a new way to divide public, or private, spaces with textile walls. This is how we came up with the idea of Tiles, which were the main focus design point of the showroom.
CK: Your installation at Galerie Kreo in Paris touches on your interest in industrial design. Does mass production interest you?
RB & EB: Our interest in industrial design is linked to the unlimited reproduction of objects. Nevertheless, for the past ten years we have been creating in the unique framework provided by the Galerie Kreo.
This helps us to breathe between other projects. This unique context has often led us to compare our work for the gallery to the use of a sketch pad, a more instinctive form of research free from the constraints imposed by industry, the norms, weight, size or other issues more or less justified by mass production. Here, we give ourselves time to explore different media and extraordinary techniques that are rejected by industry, to approach unique skills.
Our work for the Galerie Kreo has always produced exceptional events, and our research is about magic as much as use.