Renowned Stylist Charlie Brear has brought together her years of experience in fashion to create The Vintage Wedding Dress Company, showcasing to her customers a unique and enviable collection of wedding dresses and accessories. In an established career that spans the industry, styling innumerable models, celebrities and bands for music videos, magazine editorial, print and commercial campaigns, she has worked alongside leading fashion designers, styling and producing accessories for Matthew Williamson and selling under her own name at one of London's most exclusive boutiques, Matches. Charlie continues to privately advise many of her high profile clients.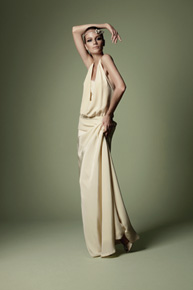 So what made Charlie start the company? There were several factors that inspired her to open VWDC. "I had to undertake a large photo shoot in Italy with one hundred brides running through the streets. I had to find dresses, veils, accessories etc. I wanted each girl to look unique, stylish and edgy so I began to source vintage gowns rather than new wedding dresses. After the shoot I decided to bring together my years of expertise as a fashion stylist with my passion for all things vintage." She created VWDC for brides who would love to wear something completely original but don't have the time, the energy or the faintest idea where to start.
As principal buyer for the company, Charlie sources dresses from London, Paris, LA and across the world; her talent for discovering exquisite pieces is second to none. "I wanted to take the trepidation and hard work out of finding a unique dress to get married in," says Charlie. "It is so hard when searching for a vintage dress to know whether you can restore something to its former glory. I buy individual pieces that I love and as a company we provide a service that does just that." The central London showroom houses a rare and diverse selection of gorgeous gowns and accessories from the Victorian era right through to the early 1970s, which are all beautifully cleaned and restored. Each dress can be tailored for the client to a couture finish. The whole process is really creative and exciting.
To complement the original vintage pieces, Brear has created a beautiful capsule collection of gowns each elegantly designed using the details and accents of decades gone by. Decades Collection was launched in October 2009 and comprises six new vintage-inspired dresses. In keeping with VWDC's ethos, the collection has been designed for brides who are looking for something unique and want to break free from the mould of the 'Traditional Wedding Dress'. Charlie carefully selected her favourite elements from these "exquisite discoveries" and used them as inspiration. The essence, silhouettes and the most exciting features from the 1920s - 1970s inspire the diverse collection. Decades has already got the international media buzzing, alongside a frenzy of brides-to-be who are queuing up to make a private appointment. Each dress is handmade in the UK from the finest quality fabrics. Different styling add-ons are available for each dress. The collection allows brides to get creative and have the freedom to add a bespoke element to their dress.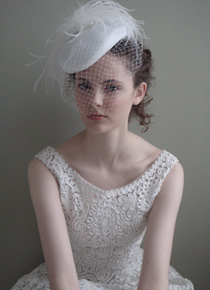 It's not only brides who turn to Charlie Brear for assistance in sourcing an amazing dress; she also has a loyal celebrity following. International TV presenter Cat Deeley is one of Charlie's biggest fans and has recently mentioned that VWDC is "a fabulous place to pick up one of her original vintage dresses that she sources from all over the world. It will make you feel like Cinderella, but you won't have to give it back the next day!"

Another dedicated follower of dresses sourced by VWDC is actress Anna Friel who is currently starring in Breakfast At Tiffany's at The Theatre Royal, Haymarket. "My top tip ..... Stores like The Vintage Wedding Dress Company here in London. You can always pick up something unique". (Anna Friel / Grazia Magazine.) Friel is inspired by vintage style and has been dressed by VWDC for many of her recent public events. Anna loves it that you don't have to be getting married to wear one of these exquisite gowns.

The team at VWDC all come from fashion and styling backgrounds. With their talents combined they have dressed some of Hollywood's most famous A-List stars, styled some of the music industry's biggest names, dressed members of the Royal family from Britain and also from the Middle East; and sent couture creations down the catwalks of London, Paris and Milan. The private appointment service gives clients the benefit of a professional eye which would normally be reserved for a celebrity clientele. You would struggle to find yourself in more capable hands for the biggest fashion photo op of your life!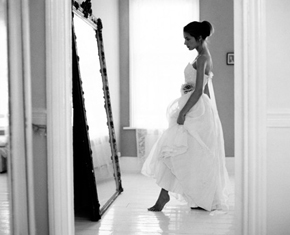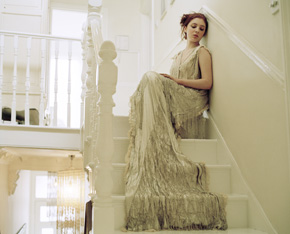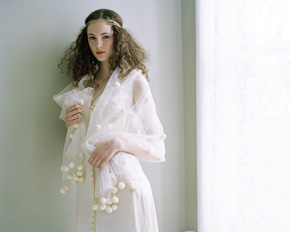 To make an appointment to visit the showroom please contact the appointments line on 02082424380.
www.thevintageweddingdresscompany.com