Christopher Kanal catches up with Sir Richard Branson to discuss luxury, space travel and the future of capitalism and finds the Virgin boss in contemplative mood on his Caribbean island retreat of Necker.
Sir Richard Branson, the 59-year old billionaire chairman of Virgin Group is as famous for his record breaking attempts as he is for his business and philanthropic activities. 2009 has been a big year for Branson. His iconic airline Virgin Atlantic – the only airline in the world to double profits last year – celebrated its 25th anniversary. Virgin Galactic will unveil its first spaceship, VSS Enterprise, in December.
Back on earth Branson has been busy with the Global Elders, a forum of statesman, businessmen and peace activists, including former US president Jimmy Carter and Desmond Tutu, who are persuading politicians to do things differently. He has also been increasing the number of retreats for his Virgin Limited Edition brand – a collection of luxury vacation properties, the first of which was his own private island, Necker, in the Caribbean, from where he talks to The Wealth Collection.
How did Virgin Limited Edition come about?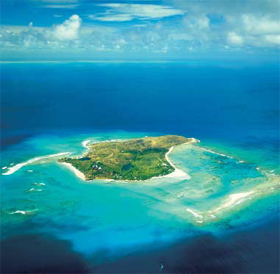 I don't like the idea of having a series of homes around the world that lay empty when I'm not there. So what I have done is create some really special homes that I share with other people. The flagship home is Necker Island. And I love Africa, so we ventured out to find a Necker Island there and found Ulusaba private game reserve.
A few years ago, when I was planning a ballooning trip from Morocco, my parents found this lovely Kasbah in the Atlas mountains where we added another spot, Kasbah Tamadot. Because I love skiing we bought a retreat in Verbier, Switzerland. Necker has 60 staff so I would hate the extravagance of having 60 people looking after just us so we share it with others.
Do you have a favourite Virgin Limited Edition property?
This Christmas we are going to Ulusaba and are taking a bunch of friends with a lot of kids who have never seen African wildlife. But I think my favourite has to be Necker Island. I am very lucky. I have travelled all over the world and I really do think it's the most beautiful spot on earth. We are trying to recreate Bali on a private island.
Where was the last place you travelled to that gave you a really unique experience?
In my job I am very lucky that I get to travel constantly. A recent trip that springs to mind is New York - with Holly and Sam. This was a truly a unique experience as it was the first time my children had taken part in a record breaking attempt with me – our attempt to be the fastest boat to sail across the Atlantic. Sadly due to adverse weather condition we had to cut short our adventure and head home. However I truly enjoyed being in the middle of the Atlantic with a great crew and my children – not sure my wife Joan enjoyed it quite so much!
What does luxury mean to you?
Luxury is a personal concept. It can be as simple as having my family and friends around me for a dinner at home.
Virgin Galactic is going into space. Are there any places on planet earth that you still want to visit?
Bizarrely, I haven't spent time in South America. I very, very nearly went to the Grand Prix in São Paulo this weekend and bitterly regretting not being there. I'm really looking forward to exploring South America some time. I think I have explored everywhere else in the world from the Arctic to Antarctic.
How is Virgin Galactic going?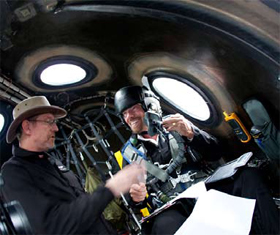 Like a rocket – thank you! My team at Virgin Galactic, alongside Burt Rutan and his amazing team at Scaled Composites, will later this year unveil SpaceShip2, and she'll absolutely take your breath away. The Mothership Eve has already undertaken many successful tests flights this year and my heart swells with pride every time I see her in flight. I cannot wait for the inaugural flight in a couple of years, and to share this experience with my wonderful family.
In the midst of the financial crisis how can capitalism get a good name again?
I don't think capitalism per se has been damaged. I think the banking sector has been damaged. I think, generally, people accept that capitalism is the only system that works. It certainly has its faults – one of which is extreme wealth going to too few people.
So if you are one of those fortunate people that benefitted from capitalism you should use your wealth constructively by employing more people or creating more businesses or tackling some of the seemingly intractable problems in the world, and not leaving your wealth sitting in a bank account. I think the important thing is that the people who benefit from capitalism must use their good fortune to make a difference. Spending millions on a private house is the kind of thing that gives capitalism a bad name.
Virgin is known for taking risks. Should world leaders take more risks, whether it be tackling environmental or economic problems?
We created the Virgin Earth Challenge with a prize of $25 million to try to get people to come up with a solution. Since we put up the prize, I feel very strongly that there is a real chance that this may well be the ultimate answer to tacking global warming and that a lot more resources should be looking into seeing if there is an engineering answer to the problems.
One of the ideas coming to us is biochar, which turns waste products into charcoal, which you can then bury. You can bury tons of carbon for centuries. I think some people are thinking big. Obviously Bill Gates is using his resources to think big and come up with solutions. His inoculations for diseases have been going on for years.
What would you like to come out of the COP15 United Nations Climate Change Conference in Copenhagen in December? Do you think a deal will be done?
I think a deal will be done. Whether it will go far enough, who knows. I think one of the problems is the amount of scepticism in the US despite having a president who believes a deal has to be done, and I think politically the will of the people is such that they want to see a deal done there.
What are your thoughts on President Obama's first year in office? Do you think he has lived up to expectations?
I think Obama is the best president America has ever had. And he is now obviously having to effectively roll up his sleeves and run the business and there are difficulties running any business, let alone a country the size of America and also the problems of the world. I think we are extremely fortunate to have somebody of his capabilities in the White House. He's morally correct in his approach to what needs to be done and I think that plays a big part.
With healthcare it was immoral for a country with that kind of wealth to allow 50 million people to go uncovered so he is bravely trying to push things through. But obviously with the way that America works there has to be a lot of give and take and compromise and that is something he has to deal with.
You set up the Carbon War Room and the Elders. Are you considering a future political role?
I'm not interested in being involved in party politics. I'm very happy to talk and speak out about issues through the Elders but I take a back seat. Through the Elders, currently chaired by Desmond Tutu, I am involved indirectly in looking at issues around the world. If you have conflicts in the world, nothing works, education falls apart and health falls apart. In this day and age there should not be the need for conflict. The Elders are in a position of moral authority and respect and play a key role there. They have done a good job in their first couple of years.
Virgin has a long history of being environmentally proactive but how receptive are you finding your peer group to confronting environmental issues?
There are good companies and there are quite a few companies that do very little. I'm a slightly strange business person in that I never saw myself as a business person. I just started off in the 1960s as somebody who wanted to create a magazine and use the magazine to help campaign against the Vietnam War. And then the business side came about in order to pay the bills for the magazine and ever since then I have created things often out of frustration. Virgin Atlantic was created because I hated the experience of flying other people's airlines and wanted to create the kind of airline I could be proud of flying on. The business aspect was a necessity again to have to pay the bills. It wasn't something that I was particularly interested in – I've never been particularly interested in making money – so what I find most interesting in life is that I am now in the position where I can make real changes.
I'm sitting in my hammock as we talk and looking out over the Caribbean. It's a good place to think. Gordon Brown recently said that global warming was a bigger threat than World War I and II put together. In World War II, Winston Churchill had a war room. If you have a threat as big as global warming, you should be pulling all forces together to tackle the enemy – the enemy being carbon. And so it seemed obvious that this problem needed a war room to co-ordinate the attack and see if we can come up with off-the wall ideas, which again in a war you often have to do in order to beat the enemy.
How has your work and social philosophy evolved since you started or have your core beliefs remained the same?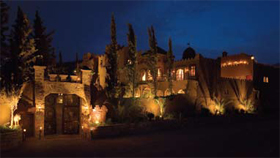 I think my philosophy has remained pretty much the same. It's just that now I have a higher public profile and more resources. I suppose I'm a lad of the 1960s, which was a slightly more caring generation with perhaps a lot more understanding of minority groups than previous generations. I don't think my general philosophy has changed. I have obviously got a lot more time to look at environmental issues or conflict issues.
Who do you listen to for advice?
My dad Ted. Obviously it's a privilege to sit with the Elders and spend a few days with them every three months. We have just come back from Israel and Palestine with a group of the Elders and that was absolutely fascinating. Each one of the elders has learnt an enormous amount from one another.
Do you feel like a one man brand?
Never! I consider myself extremely lucky to share the Virgin brand with 50,000 employees who have helped shape and make us what we are today.
How do you balance your many business interests?
By not being afraid to ask for help. Over the years I have surrounded myself with outstanding people who have helped to develop the various Virgin businesses and grow them in to the success they are today. Virgin is not a dictatorship – it never has been – it is full of amazing entrepreneurs who like nothing better than getting out there and seeing a new business or product grow. It's not a case of balancing – it's a case of trying to keep up with them!
Do you ever have an average day?
I think I'm very lucky. My days are full of variety and that's what makes them interesting. A bit like your job. I started off as a journalist and found that time absolutely fascinating. You're constantly learning about different things, which also applies to what I do.
How do you relax?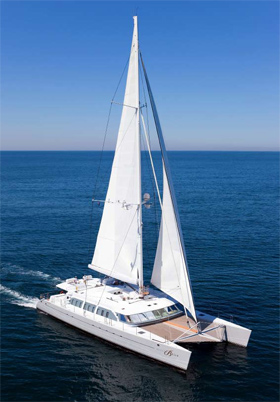 I am very lucky as my office is based on wonderful Necker Island; I can often be found lying in my hammock with my blackberry and phone working away. It's one of my favourite places to relax and gather my thoughts. It's a hard life!
And do you feel as you get older you are more receptive and learning more as you are open to new ideas?
I hope I've always been reasonably open. I was brought up by my parents to be a good listener and not to impose my thoughts on other people too quickly. Hopefully I will continue to become an even better listener as time to look at environmental and conflict issues.
What would you like your legacy to be?
To have created one of the most respected companies in the world. Also, through our foundation Virgin Unite, to have encouraged and inspired people to believe that they can make a real difference – all they need is the confidence to get out there and give it a go.
Who has most inspired you?
I have been very, very lucky and met some truly inspirational men and woman over the years. The late Freddie Laker was an extremely inspirational figure I met in my early years – I was thinking about setting up my own airline when we first met and he said: "You'll never have the advertising power to outsell British Airways. You are going to have to get out there and use yourself. Make a fool of yourself. Otherwise you won't survive." I have been following his advice to the letter ever since. Also Nelson Mandela, Al Gore, Archbishop Tutu, Mary Robinson to name but a few – men and women with truly good hearts who are not afraid to say what they believe and raise the voices of people across the world who would otherwise go unheard.
What's the best piece of advice you've been given?
My mother always taught me never to look back in regret but to move on to the next thing. The amount of time people waste dwelling on failures rather than putting that energy into another project always amazes me. A setback is never a bad experience, just a learning curve. My dad also gave me some great advice and led by example – anger is a pointless emotion. We should all try and remember that. When people make mistakes and get things wrong they generally know that and punish themselves for it. There's little point in making it worse by getting angry with them.