Some would say a man's home is his castle; Château Allaman would call his castle, a unique serviced residency on the Lake of Geneva, a 'lifestyle' investment for any discerning home-maker.
You might have it all, the exotic sports car collection, an extravagant yacht, a wonderful house or apartment in the best area of your city, but you certainly do not have residence in a 12th Century Castle in Switzerland. Yet.

For the first time, following a four-year intense planning phase with a team of experienced historical specialists, architects and grand hotel and residence specialists, the Châtelain d'Allaman – the dynamic 45-year-old owner of the Castle of Allaman – has just started the transformation of the magnificent property into a few private castle residences. He offers a handpicked clientele some unique and serviced private residences in one of Switzerland's most acclaimed castles which is classified as a 'property of national interest Class 1'. The timing is therefore ideal to select the right size and interior layout of a residence that during the coming 24 months will be completed to the new occupant's personal taste and requirements.

Over hundreds of years, the combination of the castle's medieval, gothic and the Louis XV features has resulted in a masterpiece of architecture and a fulfilment of many dreams. Today, Château Allaman's rich historical heritage is now completed with modern technology and contemporary interior design.

Surrounded by 75 acres of private forests, gardens, parks and personal label Grand-Cru vineyards, the property has stunning views onto the Lake of Geneva and the snow-capped Mont Blanc mountain sceneries.

The castle's fascinating and significant 755 years of history includes the creation of the Society of Peace which later shall become the League of Nations and consequently the United Nations.

No wonder the 'Castle of Peace' is considered by many to be the 'ultimate Swiss address.' Many fine names have enjoyed the privileges and class of Château Allaman. The list of past occupants includes the Count de Vaud, Count de Rossillon, the Marchioness Jeanne de Langallerie, Baron Francois de Russin, Joseph Bonaparte King of Spain, Empress Josephine, the Duke of Bassano, Franz Liszt, Camille Cavour, George Sand and Voltaire.

Alongside the grand residences in the chateau itself you will find the Manoir du Chateau and Palais du Jardin with their residences in addition to a lofty châlet-styled La Grange du Château which accommodates a 4,000ft2 wellness, pool and spa zone.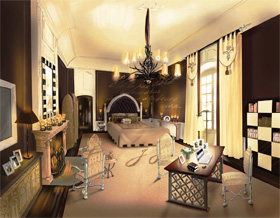 History has never been this modern, private and comfortable, or this secure and exclusive. As a resident you will experience the utmost in six-star service and quality in your bespoke furnished residence.

You will be pampered by the castle's personnel, driven in the Château's fleet of limousines and cruise in the castle's yachts on the Lake of Geneva, the largest lake of Europe, with over 80 little picturesque bays and fresh-fish restaurants on the shore.

Many that have discovered Allaman call it a 'lifestyle investment' amongst all other superlatives. An investment not driven by a financial, but rather a 'lifestyle' return to crown the achievements of life.
The ultimate address
The castle's owner also points out that today more than ever before, wealthy and well-known families are appreciating the castle's aspects of privacy and security in a truly safe, stable and clean environment – namely, the country of Switzerland. The gated-access, guards and concierge-lobby entrance ensure the ultimate in personal safety and protection of family valuables. It also helps that Switzerland stands for discretion, privacy and safety and completes its list of benefits with a low-tax climate, elite schools, top hospitals, magnificent cuisine, famous mountains for skiing and its clean countryside.

Today, many successful families have discovered that the residences of Château Allaman allow enjoying a luxurious lifestyle without the enormous capital requirements involved in the ownership of an entire castle and at a fraction of the running costs otherwise associated with personnel, security, maintenance, insurance and taxes. of a property of this scale.

Château Allaman offers either a long-term-lease arrangement (from five to 20 years) or full ownership of a residence. Both options allow enjoying an exclusively furnished and decorated residence that is managed by one of the world's renowned first class operators.
Further information
Château Allaman Private Office
Tel: +41 21 8070 901
Email: Ch@teauAllaman.com
Website: www.Chateau-Allaman.com