In a recession, there aren't many people that can say that they were able to purchase a luxury villa in one of the hot spots of Mallorca, or that they were able to customise that villa to the last detail. That is unless they purchased a Cap Falco Residences villa. Malcolm Lea, managing director of Greenside Property Ventures, tells The Wealth Collection how buyers really can have it all; whatever the financial climate.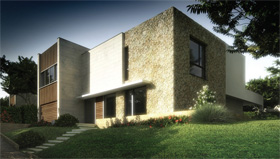 Mallorca's increasingly tough building regulations and restrictive planning laws mean that new homes have simultaneously improved in standard but declined in number – the end result is that prices have held firm, especially at the top-end, despite significant falls in values on mainland Spain and some of the smaller islands.

Cap Falco Residences, a brand new development in Calvia, one of the most exclusive communities in the Mediterranean, is a prime example of this ascent in quality and value. It is a private collection of 20 new luxury villas situated near Palma – the south western tip of the island.

Launching in April, Cap Falco Residences boasts two types of villa, each using a variety of locally-sourced stone and timber. The emphasis is on luxurious living, inside and out.

'Each will have a contemporary design appealing to permanent residents – including those who moved to the island in recent years and now wish to trade up to a luxury villa – as well as to lifestyle buyers from elsewhere in Europe seeking a Mallorcan holiday home,' explains Malcolm Lea, managing director of Greenside Property Ventures, the firm behind the development.
Location, location, location
The location of Cap Falco Residences is a key attraction for many. It sits just 25 minutes from Palma airport but is one of the most naturally beautiful parts of the island. The villas are set in pine trees on a peaceful, protected headland with direct access to a small hidden cove, a setting branded hippy chic by Malcolm Lea. Additionally, buyers can enjoy the sandy beach, accessible only by a path or boat, and its friendly chiringuito, or beach café.

However, to take advantage of the pale fine sand in the cove, buyers will first have to tear themselves away from the high quality villas. These are priced from €1.9m for the smaller villa, and from €2.75m for the larger. Each will be custom-built to the buyers' tastes. Situated in such a commanding position and priced at about €6,000 per square metre, these are amongst the best value villas on the island.
Personal touch
One villa type has 437m2 of living space, including four en-suite bedrooms and three reception rooms. The second type has 335m2 of space including four bedrooms, two with en-suites and two reception rooms. Each type has a guest suite included in the number of bedrooms.

A wide range of options, especially in the larger villa, not only offer the opportunity to choose from an extensive selection of fixtures and fittings but also to design some rooms to their own lifestyles and aspirations.

For example, a room can be constructed as a guest bedroom or a gym and sauna; as an office or a games room, or even a home cinema, depending on what the buyer requires.

Greenside has also struck an alliance with Porcelanosa, arguably Europe's leading design house for contemporary bathrooms, kitchens and tiles. This means prospective buyers of Cap Falco Residences will have the unique opportunity to see and touch an exact replica of the kitchens and bathrooms at selected Porcelanosa showrooms across Europe. So in kitchens and bathrooms, there will also be scope for significant customisation.

Buyers can also select from a range of electrical installations in each villa including different remote and in-house controls for heating, lighting and sound systems.'It is essential that we offer our buyers the opportunity to make a villa their own,' says Lea. 'This instils confidence that we can build precisely what people want. We believe this approach is simply not available to this extent at any price in any other development on the island. That's what makes Cap Falco Residences development is unique.'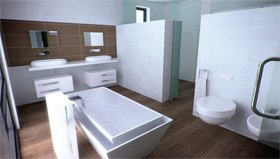 Outdoor living
On a Mediterranean island as warm and sun-kissed as Mallorca, living outside is as important as living inside. Each Cap Falco Residences villa has an infinity pool, large open and shaded terraces, balconies, awnings and a landscaped garden, but there are a few surprises, too.

On the roof there will be solar panels generating power for each villa, while across the grounds there will be a range of sophisticated lighting. Each home will have its own private entrance and gate with a video entry system, providing complete security for owners, their guests or their tenants if a property is let out.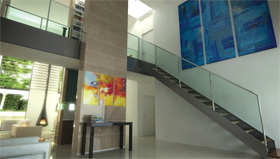 Combine this top-end ambience with the enduring qualities of Mallorca and you have a very special proposition.

The city of Palma, with its mix of historic buildings and some of the Mediterranean's best shopping and restaurants, is only 15 minutes away; the charming local Poniente Golf Club is almost on the doorstep, and many other golf clubs are nearby.

Cap Falco Residences is also easily reached from the island's growing number of mega-yacht marinas including Puerto Portals and Port Adriano, two major ports on a coastline that is legendary for its water-sports.
Sensible investment
To increase financial security for prospective buyers, Greenside has assembled a financial package in association with a major Spanish bank. This bank is already a partner in the development and has built a reputation as a solid, successful institution – even during the most volatile financial storms of recent years.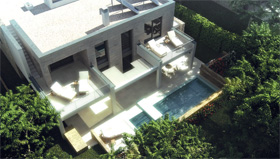 The package includes a mortgage offer covering the staged payments that are made during construction of each villa, plus a bank guarantee that allows absolute peace of mind for buyers.

'We want to create purchaser confidence. This is what is missing from many developments today, though we place this at the centre of our offer to buyers. The existence of this package, even for those who do not need to call upon it, is testimony to the strong financial foundations of Cap Falco Residences,' says Lea.

Add that confidence to Greenside's after-sales service and Cap Falco Residences emerges as a luxurious and high-specification development. It offers buyers a rare opportunity to own a slice of a beautiful island – and to be assured they have a safe investment.
Further information
Greenside Property Ventures
Website: www.greenside.eu
Cap Falco Residences
Tel: 020 7629 4256
Website: www.capfalco-residences.com
Cluttons Resorts
Tel: 020 7584 3050
Website: www.cluttonresorts.com