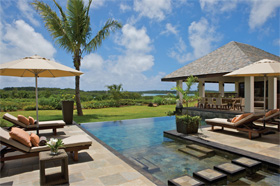 If vacations on the tranquil tropical island of Mauritius have left you wanting more, now, with Anahita World Class Sanctuary, you can have it.
Mauritius is known as the Pearl of the Indian Ocean for good reason. Lying 900km east of Madagascar, the small island nation glimmers in the memories of holidaymakers everywhere as a tropical sanctuary – a place of infinite relaxation and refuge from the real world. Along with its idyllic pace, temperate climate and turquoise waters, Mauritius shares with vacationers its traditional way of life – one that is centred on languid living, interwoven with a blend of Asian, European and African cuisines and languages to create a truly unique cultural experience.

It was only in 2004 that the dream holiday destination opened its doors to foreign investors, inviting those who fell under Mauritius' spell to finally call the place home. In a bid to shift the country's reliance on its declining sugar trade and boost the economy through tourism, the Mauritian government proposed legislation that allowed non-nationals to purchase property on the island. Under the Integrated Resort Scheme (IRS), non-residents can purchase properties with a minimum sales value of $500,000 and upon buying are automatically granted a residence permit. This, coupled with an attractive tax system (there is no inheritance tax or capital gains tax), and a stable economy and government, has seen high-end buyers lining up for a slice of the dream.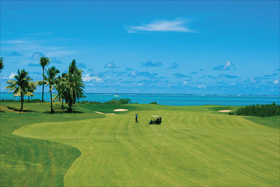 Anahita World Class Sanctuary is one of the standout developments offering five star freehold properties under the scheme. Developed by Ciel Properties Ltd, the 213-hectare Anahita estate is located on the largest lagoon in Mauritius situated in the island's east, and is among the only freehold property available on the Mauritian coastline (less than one percent of Mauritius' coast is freehold). Its properties stretch along 6km of pristine shoreline, threaded together by an 18-hole golf course designed by
South African golfing champion Ernie Els, which won the title of Best Golf Development for Europe & Africa at the 2008 CNBC International Property Awards.

Upon entering the grounds of Anahita there is an instant and overwhelming feeling that this place is not just an escape, but a place to live in the full sense of the word. Driving around with the top down, residents can be seen enjoying a hit of tennis or water sports on the lagoon, while the luxury villas, apartments and residencies that line the landscaped fairways and beachfront tell of the more private paradisaical lifestyle of homeowners. At the heart of the development lies the mother ship of leisure and luxury: the southern African region's first ever Four Seasons Resort, complete with an indulgent array of services and amenities available to Anahita's residents.
Your own private villa
Clustered into the four lavish communities of L'Adamante, Lunea, Solaia and Four Seasons private residencies, each individual villa oasis combines the essence of traditional Mauritian living with deluxe contemporary comforts. Ranging from two to five and in some cases six bedrooms, each home features a state-of-the-art kitchen and bathroom, panoramic views of the lagoon, golf course, and mountains, spacious undercover veranda and private plunge pool; many with a volcanic stone-lined outdoor garden shower.

Such is the divine appeal of the villa designs at Anahita that nearly all (89 percent) of the 177 properties released for sale to date have been sold. The first hamlet to enter the market – L'Adamante, a collection of 70 bijoux villas and apartments located at the heart of the estate – was bought out in under just six hours in June, 2006. Thankfully for buyers, remaining phases of Anahita are planned for sales release as of early 2010.

Sherri Motazed, Senior Director, Playground Real Estate, the global firm promoting Anahita, says the response from buyers even in complex economic times is a testament to the inherent quality of the villa designs and of the resort as a whole.

When people visit Anahita they are absolutely amazed by what they get for the purchase,' she says.

'The estate has attracted a vast mix of homeowners from every part of the world – from Europe to South Africa, the Middle East and Asia,' adds Motazed, 'which shows there is really something for everyone at Anahita.'

Once completed the development will be home to 215 villas, 70 waterfront apartments and 45 Four Seasons private residencies.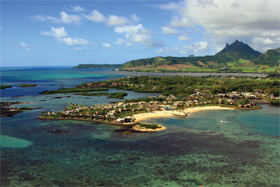 Modern luxuries, traditional ambience
Anahita's villas combine the best of traditional Mauritian living with 21st century lifestyle needs. The architecture and design of the homes takes cues from the 'New Mauritian' style, where contemporary sleek lines and subdued tones and textures meet splashes of bright colour and breezy interiors. All of this translates into an atmosphere that's as cosy and comfortable as it is open and spacious.

At any time, day or night, villa dwellers will find themselves gravitating towards the airy veranda, which designers of the Anahita master plan, Wimberly Allison Tong & Goo (WATG), say is the central aspect of the Mauritian home.

'Mauritius living is identified by outdoor rooms,' says WATG senior vice-president, Kevin Scholl. 'The lanai, patio, or terrace are where people in Mauritius live, dine, lounge, and even sleep.'

In designing the outdoor rooms, WATG sought to blur the boundaries between architecture, interior and landscape.

'They must be seamless,' says Scholl.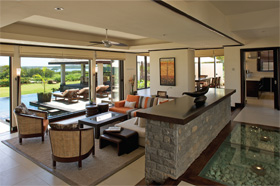 Inside the villas, walls are also metaphorically broken down between rooms and their functions. Areas designed for lounging, relaxation and reading, for instance, can just as easily play the role of a dining room. Such spatial versatility – where you can do anything, anywhere, any time – is, according to Scholl, the very epitome of luxury.
World class resort living
Beyond the intimate luxuries of home at Anahita lie the greater benefits of resort living, all of which make you feel like you are truly 'living the dream'. Whether it's Solaia, Lunea or Four Seasons itself, homeowners have all the amenities and the most vital services of a five star hotel available to them, including the option of a concierge, valet and daily maid service. And on those rare nights that the villa's gourmet kitchen or the region's colourful local food markets at the nearby district of Flacq don't inspire your inner cordon bleu, a private chef and personal food shopping service is at hand.

There is no shortage of ways to stay active at Anahita with some of the most scenic golfing fairways in the world just a stone's thrown from your villa veranda, along with walking paths and a menu of water sports, including snorkelling, sailing and the estate's very own PADI-approved diving centre (Professional Association of Diving Instructors). The adrenalin rush of kitesurfing or water-skiing across the lagoon can be balanced with an open-air massage in the Palm Tree Grove, or a treatment in one of Four Seasons Spa's pavilions, suspended over water amidst the soothing sounds of lapping waves.

The bustling hub of La Place Belgath, where boutique shops, restaurants, a golf course entrance and the Anahita Wellness Centre converge offers a social counterbalance to time spent in secluded relaxation in your villa pool. Just a five-minute boat ride away is Ile aux Cerfs, one of the most beautiful islands off Mauritius with exquisite beaches.

More adventure awaits just 10-20 minutes' drive from Anahita at L'Etoile and the Ferney Valley, which form part of the treasure reserves owned and operated by Anahita's developer. Here, nature lovers can explore Ferney's lush endemic forests or traverse the landscape of L'Etoile at the cusp of the Bamboo Mountain Range on quad bikes, horseback, bicycle or by foot. Visit www. cieletnature.com for more information on other exciting activities available to Anahita residents.
Further information
Anahita World Class Sanctuary
Tel: +230 404 2266
Email: info@anahitamauritius.com
Website www.anahitamauritius.com